Background
The wide staff distribution, tight organization structure, close teamwork, and hierarchical management of the security industry required unified command and dispatching management. Besides traditional voice dispatching, staff positioning, and voice encryption, the rapid development of communication technology tends to pursue multi-media transmission and intelligent application management.
Current situations:
1. Single Communication Mode
Traditional two way radio supports only one communication mode. The simple narrowband communication can only handle simple data services like: voice call, positioning, SMS, etc. Without image, video and other intuitive and accurate multimedia supports, it's unable to provide accurate onsite information.
2. Limited network coverage
Due to the limited base station erection, traditional DMR narrowband can only cover fixed areas. Therefore, security personnel could fail to get connected once they go out of the narrowband cover area, which could lead to low response efficiency.
3. Lack of unified dispatching and intelligent management
The complex structure and lack of unified dispatching system of security apparatus can easily lead to 'information island' among personnel and departments, which seriously hinders efficient coordination and unified dispatching. Meanwhile, there remains the problem of low management efficiency of traditional security forces. The paper statements used are easily damaged and lost, and can't check out the actual personnel on guard status and action log.
Converged DMR+PoC Solution
To tackle the unstable communication coverage and intelligent management needs of the security industry. BelFone came up with BF-SCP810 multimode radio that integrates public and private network, gives full play to the complementary advantages of broadband and narrowband network, provide stable communication support and intelligent dispatching management for guards and security, enhancing communication efficiency and emergency response capability.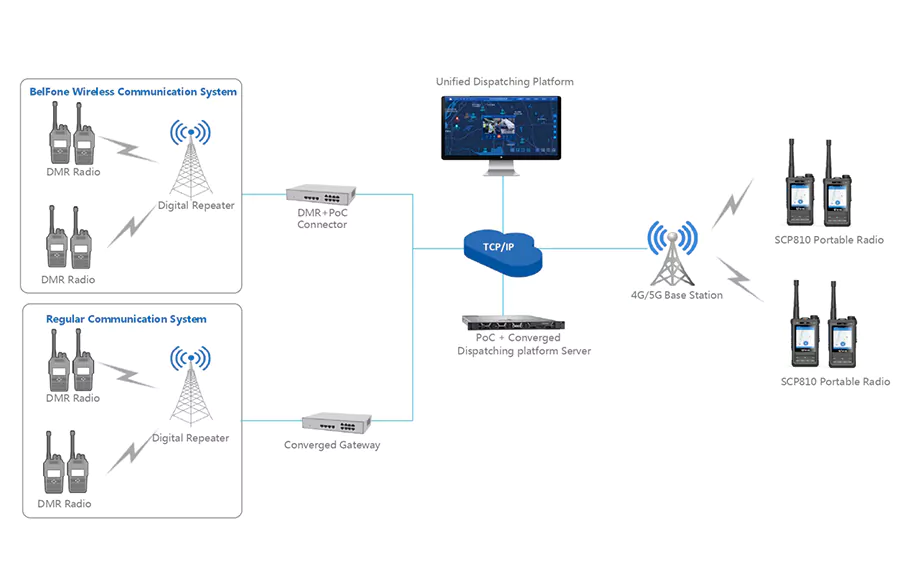 Real Time Information Support
BF-SCP810 upgrades and integrates from simple voice communication to multimedia services. Equipped high-definition dual camera, 5-megapixel front, 8-megapixel rear autofocus camera to capture HD real-time onsite moments with one simple click and convey HD onsite information. Meanwhile, it also supports video monitoring, image recognition, video conference and other multi-media services. Provides more comprehensive information support and assists fast and accurate decision making.
Converged Public & Private network
BF-SCP810 converged DMR+PoC radio supports 4G all-network and dual SIM card dual standby. With the support of 4G public network, it can easily realize unlimited real-time communication, cross-group communication, video intercom, and Trunking communication. In public network blind zones, backwoods, mountainous areas, or other remote regions without network coverage. BF-SCP810 can be switched to DMR mode, work with BelFone Ad Hoc network devices to establish communication networks and provide 'last mile' communication support. Help to achieve full communication coverage and provide equipment support for security teams to stay connected.
Intelligent Dispatching Management
While guaranteeing the reliability of critical voice call BF-SCP810 also takes into consideration information managing needs throughout security work. Combined with BelFone Prochat IOT Cloud BF-SCP810 serves video conference, emergency alarm, real-time positioning, Trunking communication, real-time monitoring, and IOT functions, providing real-time check, dispatching, commanding of terminal devices' location and status and statistical analysis. Based on intelligent management, the system can systematically manage patrol route, patrol plan, attendance status, comply with and change the patrol program flexibly according to user rights and form management statement accordingly.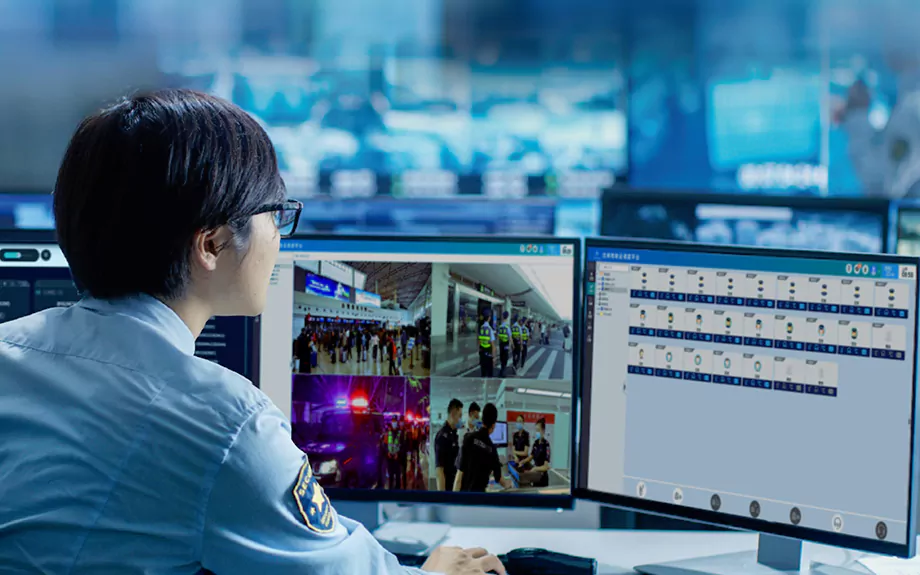 The application of DMR+PoC solution provides reliable communication supports for the public safety industry, and contributes to the public safety department's daily management and emergency command, helping to move forward intelligent communication.