Ad Hoc Networking
BP750 used multi-hop network technology to turn each Ad hoc radio into a communication signal source and form a strong communication network. It is a powerful two-way radio with characteristics of frequency-saving, easy to use, easy to carry, rapid deployment, etc. Furthermore, it also extends the communication distance and realizes signal coverage in remote areas.

Superheterodyne Circuit
BP750 adopts the new superheterodyne circuit design to improve its RF performance, enhance reception sensitivity, and further extend communication range. Guarantee stable reception in cross-zone switching. Ensure timely and efficient communication across a wider range.

Stealth Mode
The stealth mode could meet different communication demands during the wartime. It can be switched into the vibration mode when the bell and light reminder is inconvenient. In addition, users can also send quick messages by the programming button.

Single Frequency Repeater
BP750 supports single frequency repeater services in conventional DMR mode. It can be used as a portable repeater to quickly establish a single frequency network, and expand the original communication range.

High-precision GPS Positioning
BP750 supports a variety of precision positioning which can report real-time information, check data sms, compress data, test speed, and realize visualized command and dispatching.

Full Duplex Calls
BP750 incorporates full duplex calling technology to allow both parties to talk at the same time, which greatly facilitates the exchange of crucial information and increases communication efficiency.

Advanced Encryption
BP750 uses ARC4& AES256 encryption, and dynamic key to secure communication privacy and optimize information safety.

Long Battery Life
BP750 utilizes the latest lithium polymer technology (optional 3350mAh battery) which can easily achieve 24 hours battery life.

IP68 Protection
IP68 certified BP750 is a tough radio designed to brave the challenges of harsh environments. So, environmental factors are one less thing to worry about.

TTS
BP750 supports TTS to convert text to speech, helping to receive messages without viewing them, free your hands and eyes.

Multiple alarm modes
BP750 supports 5 different alarm modes, and 3 kinds of emergency alarms (lone worker/mandown/emergency alarm), helping to locate people in emergencies and improve rescue efficiency.

Multi Versions & Functions
BP750 Provides multiple system versions to suit different communication systems: Conventional /Trunking /SFR /Ad hoc /BelFone Smart Virtual Trunking/BelFone Dispatching System.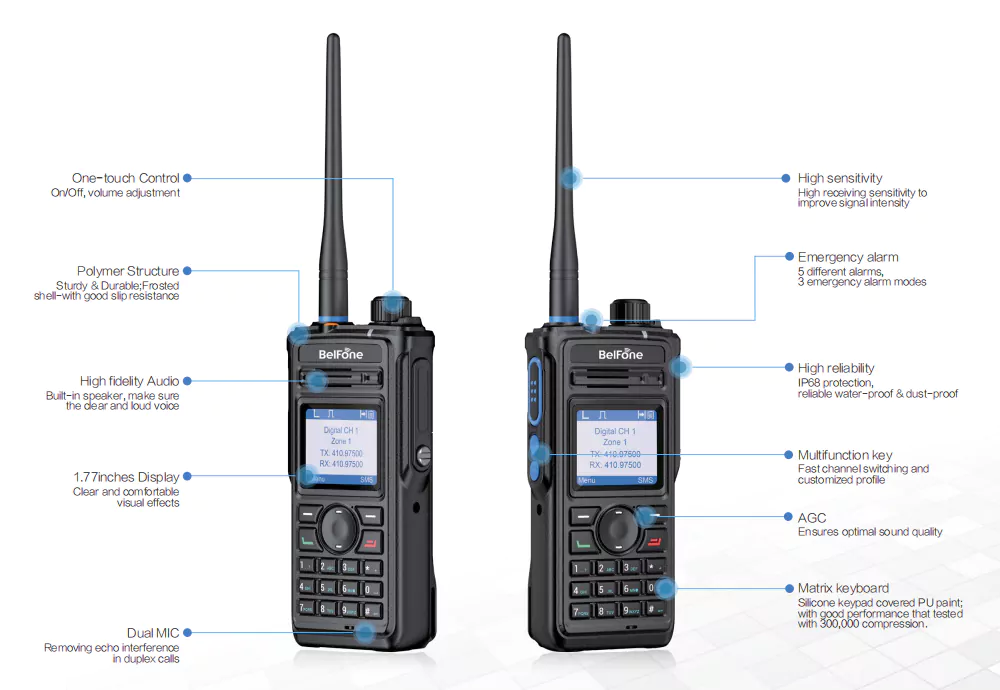 Interrupt/Interruption
Lone worker
Digital emergency alert
Analog emergency alert

ARC4/AES256 Encryption
Power-saving mode
Low battery alerts
Mandown
Programmable button

Scanning/Monitoring/Roaming
Stealth mode
Noise reduction level
Preset SMS
DMO 2-time slot
SDC/SVT/DMR Trunking(optional)