* Multi-mode Hybrid, Versatile Connectivity, Flexible Communications
Multi-connection in versatile Network, different communication standards supported, broadband and narrowband converged. A multi-mode radio works in DMR conventional mode, DMR trunking mode, analogue conventional mode, MPT1327 trunking mode, PoC (public 3G/4G) and MC-LTE (private LTE) mode, bringing all the advantages of both narrow and broad band technologies together, which could always stay in connecting, to communicate whenever and wherever.
* Multimedia Communication to Satisfy Actual Situations
Enjoy radio convenience and efficiency to deliver clear voice, and more smart applications for pictures, video, data, etc. A new powerful radio with human-centered design, streamlined interfaces, accelerated communication. It brings you unprecedented advancements in mission-critical voice and data. So, you can focus on what matters most.
* Intelligent Multi-application Integration Platform
Various smart working APPs like DMR, PoC, Body Worn Cam, Navigation, Workorder, etc. are available and various sensors can be integrated to realize more functions, support abundant third-party customized applications to enrich services, leading intelligent management, ready for more challenges.
* Rugged and Reliable Designs
Compliant with the highest protection grade IP68 (waterproof, dustproof) & MIL-STD-810G, Indicators such as impact, vibration, solar radiation meet military reliability standards, competent for most kinds of harsh working environments.
* Convenient One Hand Operation
Use the device easily with only one hand even though it looks big, thus to set one hand free especially in serious and complicated situations, a new level of user friendly.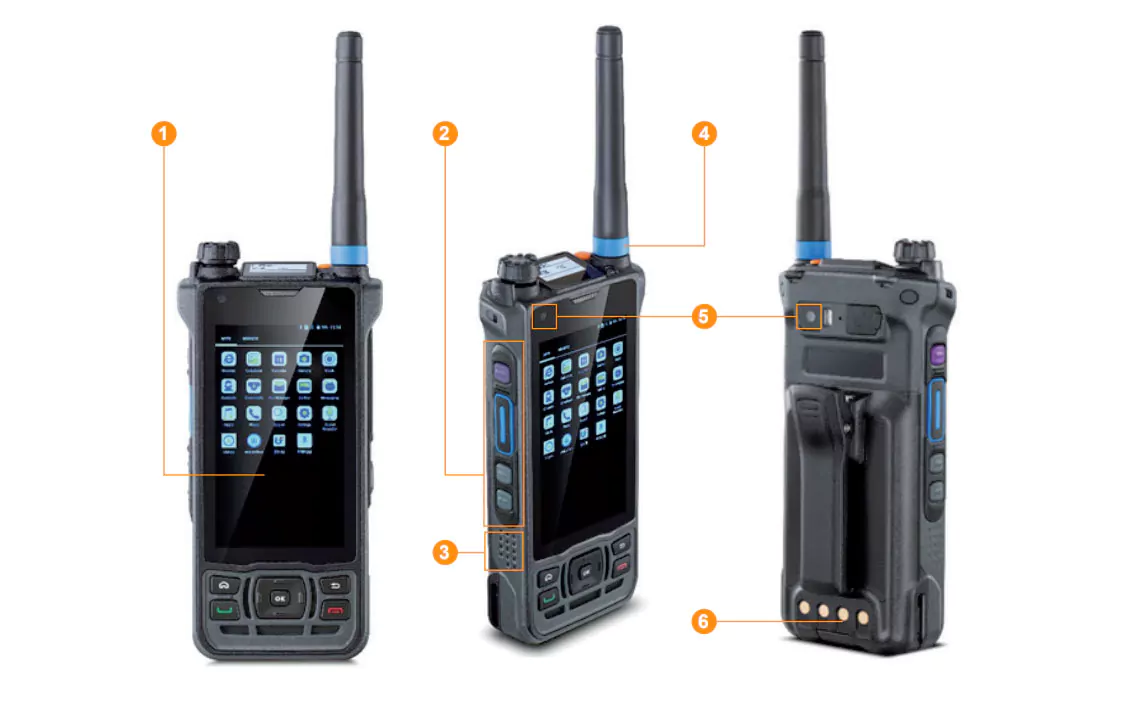 ① Dual Rugged Screen
- Convenient to check information from multiple angles.
- Dual screen switch automatically to save power.
- Visible in different lighting situations.
- Workable even with gloves, wet hands, in rain and dust.
- Super-tough, coming with IP68 rated water-resistance, a durable build with shatter-resistant display.
② Versatile Necessary
PTT and programmable keys, operate as you please.
③ Perfect Audio Quality
* 3 microphones noise reduction under full duplex call, picks up sound evenly from all directions, be heard wherever you go.
* 2.5W high audio power delivers crystal-clear and louder sound.
④ Safety Guarantee
Stay safe at all times with Lone Worker, Man Down. Emergency Alarm button and GPS positioning options.
⑤ High Definition Camera
Rear 13MP camera, supports 4K HD video
⑥ Smart Batteries
Let you work at ease, gives you more energy, better control, and longer operation life.
BelFone DMR + LTE Hybrid Radio Solution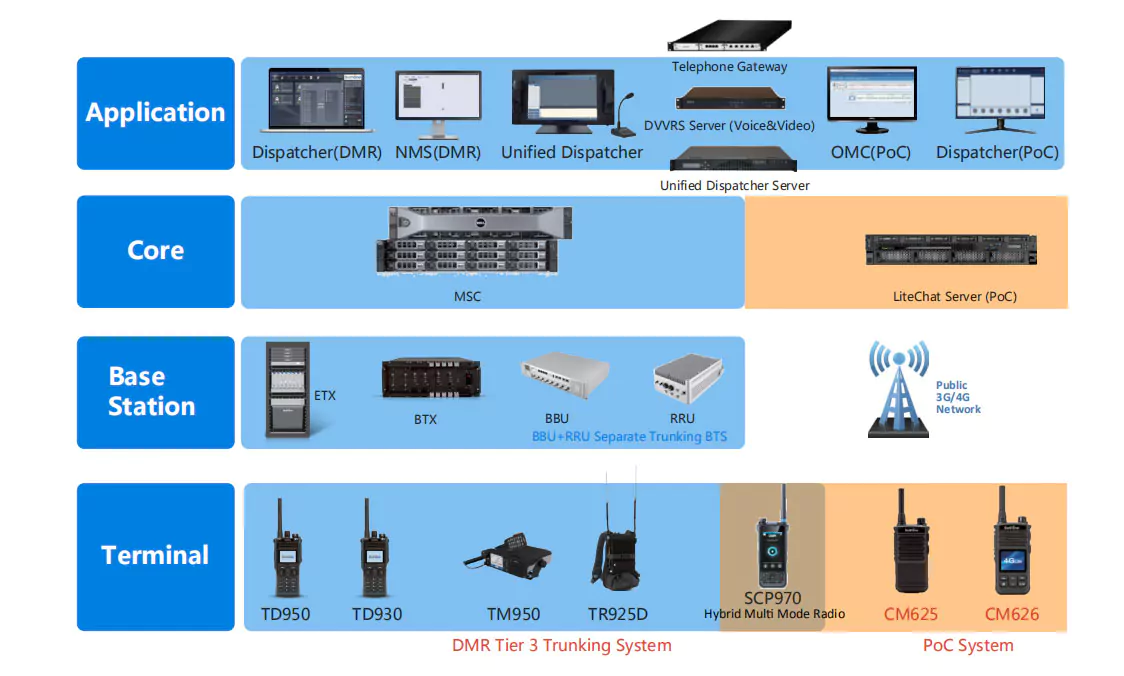 Topology of Hybrid DMR + PoC Network