TDMA True 2 Timeslots
TDMA true two timeslots technology effectively doubles frequency efficiency, allowing BF-TR8050 to repeat two signals simultaneously. Repeating capacity is doubled.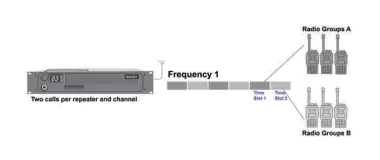 IP Multi-site Connection(Optional)
Support IP connection with other devices for multi-site connections and remote control. A private network can be quickly established and the coverage is further extended.
Strong Anti-interference Ability
This delivers more stability and accuracy to the network. The users can enjoy uninterrupted, private communications.
50W Maximum Repeating Power
The 50W maximum repeating power can effectively extend the network coverage with less setup equipment.
99 Channels
BF-TR8050 supports a maximum of 99 channels, providing efficient radio network control for different scenarios.
Good Heat Dispersion
High-quality built-in fans provide sufficient airflow for operation within the specified temperature range without derating.
Digital/analog Self-adaption