Small Size and Light Weight
Small enough to be held comfortably in your hand and light enough not to be a burden.
IP54 Dust&Water Protection
With IP54 protection, this smart and compact radio is built to last and to challenge all kinds of tough communication environments.
Radio Priority-Based Interruption
This function enables a radio with a higher level to interrupt communications between radios with lower levels, giving higher priority to radios with higher levels. This means better dispatching efficiency.
A Long Battery
BF-TD446 can function for longer than any conventional analog radios. Battery life is one less thing to worry about!
Scan/Monitor (programmable)
At a convenient push of a button you can monitor all the conversations on your channel or you can scan conversations on different channels.
Excellent Audio Quality
Excellent digital audio quality comes from the AMBE+2M vocoder and FEC technology
Private Call,Group Call and All Call
The versatile calling functions bring more efficiency to your teamwork.
Transmit Interrupt
This function enables a supervisor to interrupt a radio conversation in order to clear a channel for more important communications.
DMO Pseudo Trunk
The user can choose slot 1 or slot 2 for communications. When one slot is occupied the radio will automatically switch into the free slot. Frequency efficiency is greatly increased.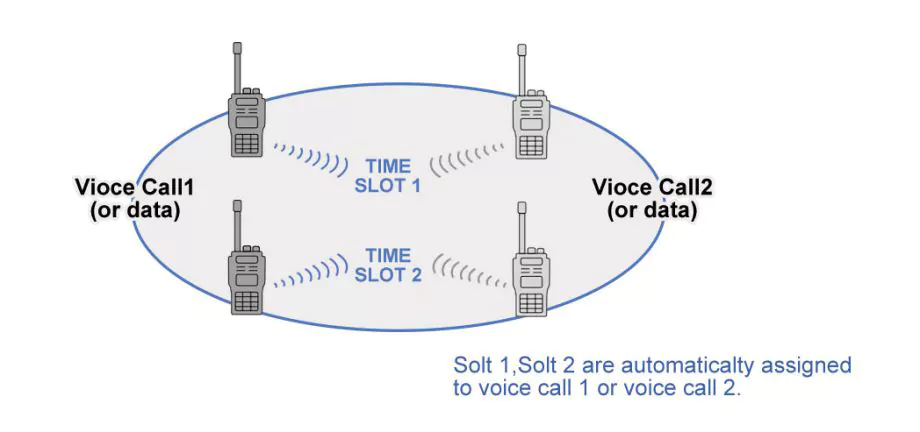 DMO True 2-Slot
In direct mode this radio supports two voice calls simultaneously due to DMR two timeslots, which means two communication paths at 1 frequency with no extra costs or frequency license.

Digital/Analog Dual Modes
Receive both analog and digital signals on a single channel and can automatically switch into the needed mode for efficient communications.